Stakeholders prepare to receive passengers and crew of stricken liner
01-March-2012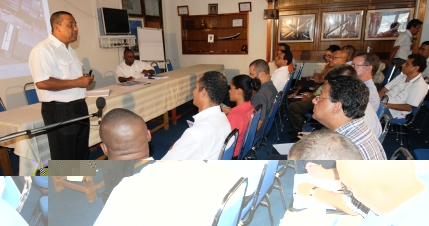 Taking part, besides the SPA, were health ministry, the Red Cross, Land Marine, Hunt Deltel, the Seychelles Tourism Board (STB), destination management companies (DMCs) and Costa Cruises, the owner of the stricken vessel.
The Costa representative said three hotels have been booked for the ship's passengers and crew and they shall have the choice of carrying on their vacation or flying out later in the day on charter flights being arranged.
The health ministry said a team of 11 doctors and an equal number of paramedics are being based at the port. There will be a back-up system at the hospital and anybody in real need of medical attention will be rushed to the hospital by ambulances, especially booked for that purpose.
Along with the Red Cross, the health ministry had already pitched two large tents at the port to examine passengers upon landing, though not those necessitating urgent medical attention.
At the time of the meeting yesterday afternoon, it could not be ascertained at what time the Costa Allegra – which is being towed to Port Victoria by two tugs -- was due, though the time was put at around early today.
At the time of going to press, the expected arrival time was around 9am.
The chief executive of the SPA, Lt Col. Andre Ciseau, said it should take between one and two hours to berth the ship, after which only the agents and health personnel will be allowed on board.
A list of contact numbers of all related agencies was established to ease communication between one another and avoid blocking the SPA's telephone network, in cases of emergency.
Police are being asked to help direct traffic, as the need arises.
It was believed that all passengers and crew are in high spirits, though a bit tired after their ordeal and will hastily be cleared to go to their hotels.
According to the Costa representative, 86 are booked at the Beau Vallon Bay, 146 at the Le Meridien Barbarons and 214 at the Ephelia.
The DMCs, Creole Travel and Masons have arranged for between 20 to 25 buses for transportation to their places of accommodation.
Some 14 international news organisations have been accredited to cover the occasion. They will be joined by representatives of seven local media.