Student launches pocket guide to speaking Creole
02-March-2012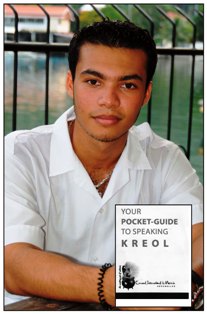 The guide is the initiative of Richard Athanasius Ah-Weng, a 16-year-old student who is also the head boy at the Mont Fleuri secondary school and was voted as the best junior karateka in 2011.
He got the idea to publish the work when "a visiting family friend from abroad asked me to give him a crash course in our Creole language. I tried but each time he was out alone he'd forget certain phrases".
"So I thought that if he could carry my words around with him, he'd be happier, hence was born this pocket guide," Richard said.
The eight-page booklet has mostly everyday words and simple phrases which any tourist can use to make friends or get around in Seychelles.
Richard said he has received support from his family, especially his mother, to work on this small project as well as from the Seychelles Tourism Board's chief executive Alain St Ange. And he thanked them all for their encouragement.
'Your pocket guide to speaking Kreol' is on sale at various outlets in town including the Victoria post office and Kenya Airways office for only R25.
He said there are about 10,000 copies and he wants to publish a more comprehensive Creole guide later on, with more words and phrases, accompanied by a CD.
Anyone who wants to contact Richard for a copy can do so on tel: 2548955.