President Michel becomes world tourism ambassador
03-March-2012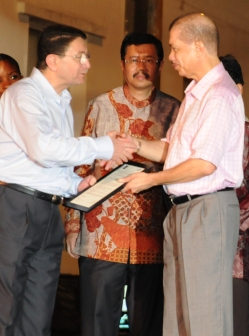 The United Nations World Tourism Organisation secretary general Taleb Rifai presented the letter to Mr Michel as well as the président du Conseil Regional de l'île de La Réunion, Didier Robert.
Mr Rifai said it is the first time that such a letter is presented to heads of state and government.
He added that by accepting this letter they automatically become world ambassadors for tourism.
He said the letter will also be presented to all heads of state across the world.
Mr Rifai also revealed that this year Seychelles will host the Africa Route event in July.
Route is the world route development forum for airports and airlines established to promote route and service expansion. It desires to involve tourism interests in its annual global and regional meetings and is interested in expanding airport activity and related air services in developing countries.