Laser Sailing: Mediterranean Championships-Top-15 finish for Julie and Govinden
03-March-2012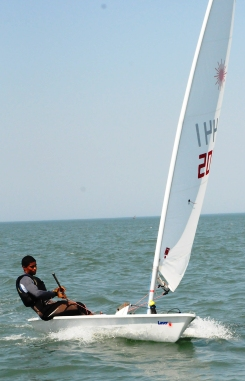 At their most recent competition – the Mediterranean Championships in Hyères, France, Julie and Govinden finished among the top 15.
Julie collected 29 points to finish 11th overall after finishing 13th, 4th, 12th and 14th in the four races.
Govinden, on the other hand, finished 14th overall, after collecting 43 points. His race positions were 15th, 13th, 15th and 16th.
A total of 43 Laser sailors took part in the championship won by Mattis Naud with 8 points, the same total as runner-up Maxime Mazard. Antony Munos and Rodrigue Cabaz were ranked third and fourth with 9 points apiece.
Both Julie and Govinden are presently in Hyères, France where they are preparing for the World Laser Standard Senior Championship which will take place from May 4-10 at the German shore side of the East Sea at Boltenhagen.
The event will be hosted by the Norddeutscher Regatta Verein on behalf of the International Laser Class Association and will also feature the World Laser Radial Women's Championship from May 15-20.
The elite of these two classes – 160 men and 120 women – are expected to compete in Boltenhagen for the last remaining 25 percent of the tickets to the London Olympics.
R. D.