Tough global issues bring UK and Seychelles closer
03-March-2012
The fight against climate change is a good example, but more recently, the bilateral and multinational counter-piracy efforts have also been in sharp focus.
The visit last week by President James Michel to the UK has locally been seen as a major highlight of our links.
Asked by Nation what he thought about the visit and the countries' ties, British high commissioner Matthew Forbes said:
"I was delighted that President Michel was able to visit London as a guest of government together with ministers Joel Morgan and Jean-Paul Adam.
"This was a historic visit, the first ever at guest of government level since independence."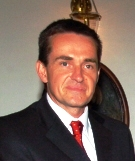 Mr Forbes noted that the President held very successful meetings with Prime Minister David Cameron and Foreign Secretary William Hague and also met leaders from around the world at the London Conference on Somalia.
"Another highlight was the audience with Her Majesty Queen Elizabeth II at Buckingham Palace.
"I think the visit is testament to the excellent relationship that exists between our countries. This has been strengthening over the last couple of years driven by our shared commitment to tackle difficult international issues, in particular our joint fight against piracy.
"I think Seychelles is, rightly, regarded as a key leader in this area and that was very apparent at the London Conference," he said.