Tennis: Vijay league-Two wins in a row for Lift & Slice
06-March-2012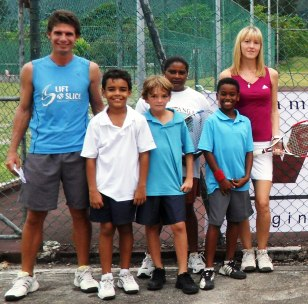 Out of the five matches contested on the Roche Caïman courts, Lift & Slice won the two men's singles and the women's singles matches as well as the mixed doubles match.
Academy, who were victorious over Rotary Club in their first league match, won the men's doubles match.
In the first men's singles match, Frédéric Canale beat Titou Roquain 2-0 (6-0, 6-0), while Damien Laporte made it 2-0 for Lift & Slice by beating Christophe Levivier 2-0. The set scores were 6-4 and 6-1.
Mary May Isnard then gave Lift & Slice a 3-0 lead with a 2-0 victory against Christie Delpech in the women's singles match. Isnard won the match 2-0 (7-5, 6-1).
Isnard and Canale were in action again for Lift & Slice, this time in the mixed-doubles where they clashed against Clyvie Delpech and Christophe Levivier. The Canale/Isnard duo won the match 2-0 to put Lift & Slice 4-0 ahead. The set scores were 6-3 and 6-3.
Academy's only victory on Friday was in the men's doubles where Titou Roquain and François Levivier defeated Shaun Andriamaro and Theo Barois 2-0. The set scores were 6-1 and 6-1.
The other league match scheduled for last weekend between Club 2000 and Spitfire was postponed. Meanwhile, the league will continue on Friday where Eden will face Spitfire, while on Saturday Rotary Club will play against Club 2000.