Anse Aux Pins playground to get new look
08-March-2012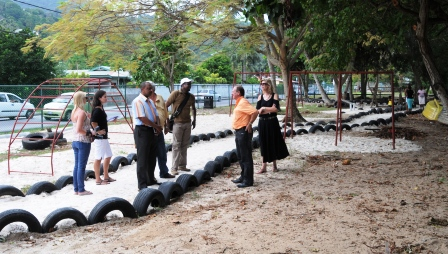 Discussions were held between the district's representatives and the partner for this project, Eden Island Development Company, to see how best to turn the playground into a safer and more enjoyable place.
The team met on Monday afternoon at the playground for a short visit and to talk about the renovation work to be done on Saturday.
Present were Minister for Investment, Natural Resources and Industry Peter Sinon, who is the district's central committee member, the district's member of the National Assembly Dr Jhowla Manoo and Eden Island chief executive Craig Heeger .
District administrator Sylvia Stravens and other representatives were also present.
Mr Sinon said a team from the district has formed a non-governmental organisation called Nouvo Sesel Anse Aux Pins (Nou SA) which will be officially launched soon.
He said the district wants to be part of the En Nouvo Sesel vision.
"We wanted to start a project which will benefit the children first, and this is the reason why we have chosen to renovate the playground," he said.
Mr Sinon thanked Mr Heeger and his team for their support and said the Nou SA will ensure that the park is well maintained.
Miss Stravens also thanked Eden Island for their contribution and said the project will be of great benefit to the community.
New play facilities and benches will be added and repainting work will also be done.