Les Mamelles Re-development-Last phase of housing project inaugurated
09-March-2012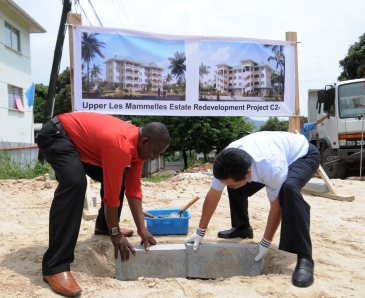 The foundation stone for the project was laid in a ceremony held yesterday morning at the construction site, where a large group of people had gathered to witness the launch of the project.
Also present were designated Minister Vincent Meriton, who is also the Minister for Community Development, Youth and Sport; the principal secretary for Land Use & Housing, Christian Lionnet; the Chinese ambassador to Seychelles, Shi Zhonjun; member of the National Assembly for Les Mamelles, Emmanuel Fideria; government representatives and Les Mamelles residents.
Addressing those present, Mr Lionnet said the project aims to eradicate the old colonial-style shelters that still exist in some of the districts.
"Built in the 1960s, it is evident that those houses have served their purposes and are now out of touch with the modern way of living of our people. With a basic structure, poor ventilation and lighting, and also lack of space, has resulted in ad-hoc extensions by their occupants trying to improve their living conditions in a piecemeal way," he said.
This has created a chaotic environment where people's privacy was not being respected, with disorganised infrastructure and utilities."
The project started in the year 2000, with the realisation of the East Coast Phase 2 project, which allowed for mass relocation of tenants and today with these 24 units, the government embarks on the last steps to completing the Upper Les Mamelles redevelopment.
Once completed, the project would have seen a total of 202 housing units built over five phases at a total cost of R104 million.
Addressing the residents, Mr Lionnet told them that a home is a place where love is spread and shared, good values promoted and a place to rest after a hard day's work.
"An exemplary home is key to success and the future of our children, we need to come together and promote good values in our community. Social ills such as drugs, prostitution and alcohol is a battle which we all have a part to play in defeating and we salute the efforts of the district authorities and the appropriate agencies to combat drugs and aiming to make our communities safe and agreeable to live in," he said.
The Chinese ambassador also had some words for the event, saying this project will really help to improve the living conditions of more Seychellois families.
"Strengthening friendly cooperation with Africa is an important cornerstone of China's foreign policy. We have never attached and will never attach political strings to our assistance to Africa, we have never sought and will never seek 'regime change' in any country under any excuse. In light of the spirit of equality, mutual benefit and common development, China-Africa cooperation will progress further with incomparable advantages," he said.
After the foundation stone was laid by Ambassador Shi and Mr Fideria, Minister Meriton and PS Lionnet joined them in further inaugurating the project by each symbolically doing some shovelling at the site.