Swimming-Mangroo on four-month training camp at HPC
09-March-2012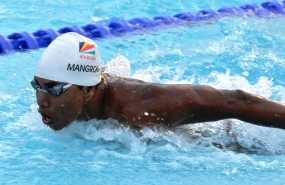 Mangroo will train with the TuksSport club of the High Performance Centre (HPC) under experienced coach Steven Ball until July 3 when he is expected back home.
While in South Africa, former Young Male Athlete of the Year Mangroo will take part in the South Africa nationals from April 18-22.
The South Africa nationals serve as qualifiers for this year's prestigious XXX Olympic Games in London, England from July 27 to August 12.
He will then join the rest of the Seychelles national team to compete in the Confédération Africaine de Natation Amateure (Cana) zone 3 and 4 championships in Maputo, Mozambique from April 25-28.
With more than 30 sport clubs and 10 sport academies, TuksSport offers a home for dedicated sport people and accommodates 9,000 applicants per week throughout the year.
TuksSport not only focuses on top performers, but also on club contestants and recreational sport participants. It provides a comprehensive high performance support programme to all sport people taking part at national and international level. This includes scientific and medical support, sport testing to training, fitness, technical and tactical expertise, sport injuries and sport psychology.
Mangroo is a recipient of the Olympic Solidarity scholarship sponsored by the International Olympic Committee (IOC). These scholarships are given to athletes with the potential to qualify for the London Olympic Games.
The other six Seychellois athletes who are benefiting from what can be considered lifetime opportunities to help them qualify for the Olympics are weightlifter Janet Georges, high jumpers William Woodcock and Lissa Labiche, canoeist Tony Lespoir, Laser sailor Rodney Govinden and badminton player Alisen Camille.
Under the Olympic scholarship programme, national Olympic committees have the chance to get financial and technical help for a select number of elite athletes who are training and attempting to qualify for the London Games.
With the main aim of the programme being qualification for the 2012 Olympics, scholarship holders receive a fixed travel subsidy of US $5,000 to cover a limited number of air tickets to take part in relevant Olympic qualification competitions.
A monthly sum of $1,000 goes towards their training, and $120 is taken off that sum to be given to them directly as an allowance.
Athletes who qualify and who are entered to compete in the London Olympic Games by their national Olympic committee will have their scholarships confirmed until August 31, 2012. Those who fail to qualify for the Games will have their scholarships withdrawn from the date of the final qualification opportunity.
An athlete's Olympic scholarship could be terminated at any time in cases where there is non-qualification for the London Games, a decline of technical level, a medical reason including injury, a conflict of sporting ethics (discipline, doping etc) and any other reasons in mutual agreement with the national Olympic committee or in contravention of the Olympic Solidarity/national Olympic committee/athlete contract.
G. G.