First centenarian of the year celebrates birthday
10-March-2012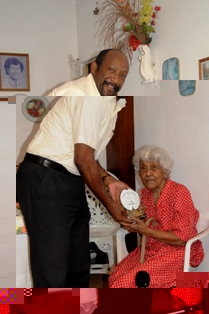 Mrs Vital was surrounded by her daughter-in-law Jessie Vital, two grandsons, a great grandchild, other members of her family, and a large number of neighbours and friends for the occasion.
Minister Meriton presented Mrs Vital with a commemorative senior citizens' shield while Mont Fleuri district administrator Flavie Laporte presented her a hamper and a message of congratulation and good health from President James Michel.
A very emotional Mrs Vital exchanged a few words with Mr Meriton just before the blessing ceremony.
She thanked God for protecting her and allowing her to live such a long life.
"I am happy to reach that age but I am sad my son is not with me," said Mrs Vital.
Mrs Vital had only one son who passed away eight years ago but she still has her daughter-in-law Jessie who takes care of her during the day and a niece Ginette Kobbie whose house is very close by and where she sleeps every night. During the day, Mrs Vital enjoys her walks between her niece's house and her daughter-in-law's.
Jessie said Mrs Vital's health is still good and she is very lucid, except for her occasional mood swings and difficulty to walk properly.