Tourism world celebrates successful 'Carnaval International de Victoria'
10-March-2012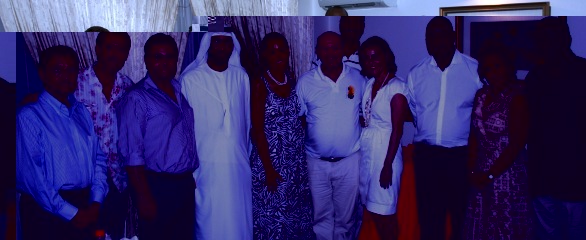 Newly appointed Tourism and Culture Minister Alain St Ange, and Pascal Viroleau, head of Reunion Tourism (IRT), were joined by the United Nations' World Tourism Organisation (UNWTO) secretary general Taleb Rifai and wife, N. Ousmann, WTO's man for Africa alongside Anwar Al Hanai, Dubai's department of tourism and commerce marketing, Kitili Mbathi, the chairman of Kenya's tourism and Mbathi, Dr B S Maunganidze, the PS for Tourism in Zimbabwe and Aaron Heslehurst, the BBC World News anchor person, for a dinner to celebrate the successful carnival.
"It was congratulations all round for this very successful carnival. Both Pascal Viroleau and myself were touched by the level of appreciation for the event Seychelles and Reunion co-hosted for the community of nations to showcase their own culture, their own people and the pluses of their own country. We all remain thankful for all the support and enthusiasm for this unique event now called the carnival of carnivals," said Mr St Ange at the dinner held at the Berjaya Beau Vallon Bay Hotel & Casino.
The world descended on Seychelles for the 2012 Carnaval International de Victoria, which is now set to be firmly established on the events calendar of the world.
The Seychelles Tourism Board has confirmed that the third "Carnaval International de Victoria" has been scheduled for February 8-10, 2013.