Seychelles delegation to attend Miami Seatrade convention in USA
10-March-2012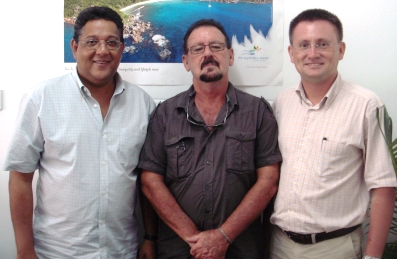 For over 27 years, Cruise Shipping Miami continues to be the leading international exhibition and conference serving the cruise industry, bringing together suppliers and buyers for a week of network sourcing and education.
No other event in the world attracts such a broad range of industry players with over 1,800 cruise-line owners and operators from 66 companies in attendance in 2011.
The STB's tourism consultant Glynn Burridge will be joined by Lenny Alvis from Mason's Travel and Creole Travel Service's Eric Renard – both senior management officials responsible for the handling of cruise ships to Seychelles – at the convention where they are expected to hold talks with international cruise ship representatives with the aim of promoting Seychelles as a cruise ship destination.
While in Miami, Glynn Burridge will take part in a cruise ship Miami conference session discussing how to enhance the links between cruising and aviation where he will be answering questions concerning how tourism authorities can best assist cruise/fly programmes to a tourist destination.