ITB trade fair confirms growing interest of German market
10-March-2012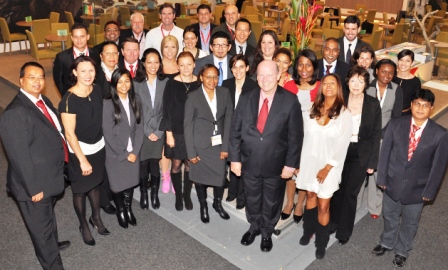 The delegation is this year headed by outgoing Seychelles Tourism Board (STB) Alain St Ange, who has been appointed Minister for Tourism and Culture, and Elsia Grandcourt, incoming STB's chief executive.
They are being accompanied at the 2012 ITB trade fair by Bernadette Willemin, the STB's director for Europe; Edith Hunzinger, the Seychelles manager for Germany, Austria & Switzerland; Christine Vel, the Seychelles tourism attaché to the United Kingdom, and Sue Schneider from the Seychelles Germany office.
Seychelles' private sector tourism professionals are also at the ITB trade fair in Berlin to work alongside the island's tourism board in a bid to consolidate the German and European markets because they are committed to that important market.
Members of the Seychelles tourism private sector taking part in this trade fair include Mason's Travel, the Coco de Mer Hotel of Praslin, Frégate Island Private, Sarah Jensen of Desroches Island Resort, 7 Degrees South, Banyan Tree Seychelles, Berjaya Beau Vallon Bay Resort & Casino Seychelles, Maia Luxury Resort, Paradise Sun of Praslin, Denis Private Island, Hilton Seychelles, North Island Resort, Le Méridien Seychelles, Creole Travel Services, Select Seychelles, Le Relax Hotels, Castello Beach Resort of Praslin, Cerf Island Resort, Dhevatara Beach Hotel of Praslin, Raffles Praslin Seychelles, Seychelles Connect, Sunset Hotel Group, Kempinski Seychelles Resort, Coral Strand Smart Choice Hotel.
Mrs Grandcourt said that the Seychelles stand at the ITB has been busy and everyone has been working as a team for the benefit of Seychelles.
"The Seychelles stand depicts our lovely country and stands out as a great venue for the ITB meetings for our private sector partners wanting to continue to develop the German and European markets," said Mrs Grandcourt.
The STB has been holding important meetings with the Maldives, Mauritius, Kenya and Reunion tourism representatives and with different airlines flying to Seychelles.