Parti Lepep nominates two new proportionally elected MNAs
14-March-2012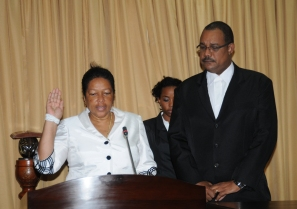 Mrs Valmont (left) and Mrs Payet-Marie taking their oaths before Speaker Patrick Herminie
They are Sylvianne Valmont and Maria Payet-Marie, who succeed Mitcy Larue and Marie-Louise Potter, who were appointed respectively Minister for Health and ambassador by President James Michel in last week's government reshuffle.
Azarel Ernesta, formerly deputy clerk of the National Assembly, was also sworn in as the new clerk.
Ms Ernesta succeeds Veronique Bresson, now principal secretary for Employment and Human Resource Development.

Ms Valmont has served for many years as a teacher before becoming chief executive of the Small Enterprises Promotion Agency (Senpa), while Mrs Payet-Marie has served in the tourism ministry and State House.

Yesterday's sitting was also attended by two secondary school students each from Mont Fleuri, Plaisance, English River, Beau Vallon and Praslin schools.
MNAs from Parti Lepep congratulated their new colleagues. They noted that so many women taking up top posts in the legislature represents an important step in the country's
socio-economic development.
Mention was also made of the appointment of Marie-Antoinette Rose as the new Leader of Government Business, succeeding Mrs Potter.
They noted that all these ladies have considerable experience having served in various organisations or the civil service.
Welcoming the two new MNAs, Opposition Leader David Pierre wished them "bon courage" in their new posts and expressed his conviction that with their experience they will take part fully in the assembly's deliberations and contribute to enriching and fruitful debates.