Envoy Jumeau welcomes chance to focus on environment issues
16-March-2012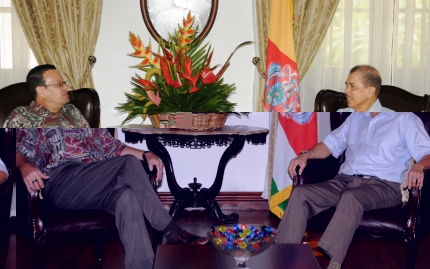 He said this at State House after calling on Mr Michel, in the company of Foreign Affairs Minister Jean-Paul Adam and the new Minister for Environment & Energy Rolph Payet.
When he restructured the government recently, Mr Michel named Mr Jumeau – who was Seychelles' ambassador to the United Nations (UN) – as the Seychelles ambassador for climate change.
"The first issue we discussed was my new posting as Seychelles' roving ambassador for climate change based in New York, to know what his thinking behind the posting was," said Mr Jumeau in an interview.
He thanked Mr Michel for ensuring separation of his environment-related and diplomatic duties.
He said he will be dealing with matters related to the environment, biodiversity, sustainable development, the blue or green economy – all of which have to do with climate change.
Mr Jumeau said the job is not new as "I was already doing the work, but as an aside to the work I was doing as an ambassador to the UN".
He said he will now be on call to represent Seychelles and small island interests around the world, adding yesterday's meeting helped to strategise his work.
He explained that as ambassador to the UN, it was difficult for him to attend to the many issues that arose but now that he will concentrate on environment issues, it will be easier for Seychelles to respond to invitations to take part in related matters whether they are addressed to him at the New York office or sent here.
Mr Adam said it is easier to reach most venues where small island issues as well as those relate to climate change are discussed from New York.
He said Mr Michel is keen to maintain the global lead position we already occupy on environment issues.
Too much work has arisen with respect to Seychelles serving as an activist for the environment and small island nation issues, requiring a dedicated person to deal with them without being diverted to, or having to miss events related to the UN, said Mr Adam.