Air Seychelles announces planned route to profit
17-March-2012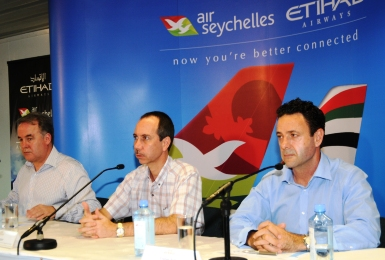 The plans including renewing its fleet, replacing the Boeing 767 with two Airbus A330-200, launching a service to Beijing in 2013 and increasing flights to Abu Dhabi, Mauritius, Johannesburg and other places.
They said this in a press conference at the International Conference Centre, which was attended by Home Affairs and Transport Minister Joel Morgan.
The managers were Etihad Airways' chief executive James Hogan and Air Seychelles' chief executive Cramer Ball.
Mr Morgan noted it was through the direct intervention of President James Michel and UAE President Sheikh Khalifa bin Zayed Al Nahyan, that Etihad Airways recently formed a strategic partnership by taking a 40% stake in Air Seychelles which was experiencing financial difficulties.
Announcing the company's new board members and directors, Mr Morgan and the chief executives said Air Seychelles staff such as pilots, cabin crew and engineers will have the opportunity to be trained at the state-of-the-art Etihad Airways Training Academy in Abu Dhabi with Air Seychelles staff being given preference.
They said some staff will be redeployed in Abu Dhabi but also that more staff could be let go as others are offered scholarships.
"Considerable focus will be placed on leveraging Etihad Airways' expertise in strengthening Air Seychelles' overall guest experience and service delivery standards," they said in a statement.
Mr Hogan said Air Seychelles "is a strong business proposition and Etihad Airways will do everything we can to ensure it achieves sustainable growth while offering passengers best in class service.
"When we partnered with Air Seychelles we made a commitment to support Air Seychelles' quest to emerge as a viable airline offering world class service commensurate with that being offered by Etihad Airways. The business plan we presented is the tangible result of that commitment.
"It makes strong commercial sense for us to work together on issues where cooperation is possible. The resulting synergies will bring about significant efficiency benefits for both Etihad Airways and Air Seychelles.
"Etihad Airways has already demonstrated how partnership between airlines can be mutually beneficial through our relationship with airberlin. As a result of that partnership, we expect to see the number of European visitors to the Seychelles rise considerably.
Mr Ball said: "We have worked hard to identify areas in which Air Seychelles can improve operations and cut costs. This plan is a clearly laid out working document that will see us not only grow quickly, but will establish us as the carrier of choice in the Indian Ocean region and beyond.
"We are delighted to be able work closely with Etihad Airways to achieve scale quickly where previously we could not and to maximise efficiencies. These are exciting times for Air Seychelles."
Before the press conference, the airline's managers had paid a courtesy call on President James Michel at State House.