Female artists showcase work in colourful exhibition
17-March-2012
The exhibition was officially opened on Thursday last week in the presence of the then Minister for Social Development and Culture Bernard Shamlaye, several artists, and representatives of the Seychelles Women's Day Association.
The exhibition, featuring only local female artists, coincided with the International Women's Day celebrated on March 8.
Mr Shamlaye thanked Jouel – an affiliate of Diamond SA and Flawless Ltd – for giving members of the public the chance to appreciate and know more about the works of local artists.

Kenwyn House is one of the biggest art galleries in Seychelles and on display are works of more than a dozen local artists.
Addressing those present, artist Rita Morel noted that there are more male than female artists in Seychelles.
She urged all women of the arts world to value and promote the fact that they are artists, adding that becoming an artist is worth it.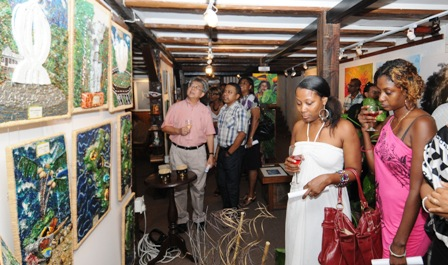 Apart from Mrs Morel, others showcasing their work are Evelyn Fanchette, Raissa Libanotis, Marie-May Marie, Alyssa Adams, Doris Nourrice, Joanna Choisy, Lisa King, Adolate Louise, Juliette Zelime and Christine Chetty.
Members of the public can view the work of these artists until March 23, 2012.
Also on display are poems by well-known local poet Maggie Faure-Vidot and photos taken by Fabrice Baixes, also known as Fatch, a professional photographer from Reunion.
All the paintings are for sale and prices range from R1,500 to R52,000.