Naw-Rúz, the Bahá'í New Year-A feast of hospitality and rejoicing
17-March-2012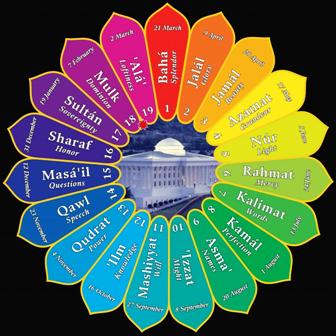 "… This sacred day, when the sun illumines equally the whole earth, is called the equinox, and the equinox is the symbol of the Manifestation of God. This day is consecrated to commemorate it…" Bahá'í writing
Naw-Rúz is the first day of the first of 19 months in the Bahá'í calendar, which was initiated by the Báb, the Forerunner of the Faith's Prophet-Founder, Bahá'u'lláh, who later confirmed it. The Bahá'í New Year, Naw-Rúz, is astronomically fixed, coinciding with the spring equinox (March 21), and the Bahá'í era commences with the year of the Báb's declaration (i.e. 1844 A.D., 1260 A.H.).
In the Bahá'í calendar the months are named after the attributes of God, e.g., Splendor, Glory, Beauty, Grandeur. The first month of the year and the first day of each month are given the name "Bahá" (Glory). The day of Bahá of the month of Bahá is thus the Bahá'í New Year, Naw-Rúz, which was ordained as a festival.
The Baha'i calendar, which today begins the year 169, has 19 months of 19 days each, with "Intercalary days" (four in ordinary and five in leap years) added to reach the 365 or 366 days of the solar year. Naw-Rúz comes at the end of the Bahá'í month of fasting, a special period of prayer and meditation during which Baha'is abstain from eating and drinking between sunup and sundown.
The cycle of the year, in the Bahá'í calendar, ends with a period of nineteen days of fasting to prepare for the coming of Naw-Rúz, the New Year, when both the physical and spiritual beauty blend and we advance to another year in which to mature the soul and prepare "for the everlasting kingdom".
In one of the prayers of Naw-Rúz, Bahá'u'lláh said:
"Praised be Thou, O my God, that Thou hast ordained Naw-Rúz as a festival unto those who have observed the fast for love of Thee and abstained from all that is abhorrent unto Thee. Grant, O my Lord, that the fire of Thy love and the heat produced by the fast enjoined by Thee may inflame them in Thy Cause, and make them to be occupied with Thy praise and with remembrance of Thee."
Joyous parties to greet the New Year
Celebrations to mark the Bahá'í New Year will take different forms throughout the world but will usually include programmes of spiritual upliftment, music, dancing and feasting. The celebrations begin the evening before (March 20) because the Bahá'í day begins at sunset.
The event planned for Seychelles is typical of the kind of multi-cultural celebration that will be observed in many of the 150,000 localities where Bahá'í s - who embrace human diversity - reside around the world.
Contributed by the Bahá'í Faith – Seychelles