National theme launched on inner islands
19-March-2012
The event, held in a packed Grand Anse Praslin community centre, was attended by designated Minister Vincent Meriton, who is also the chairman of the national theme organising committee; the Minister for Employment and Human Resource Development Idith Alexander and the Minister for Health Mitcy Larue, formerly MNA for Baie Ste Anne Praslin.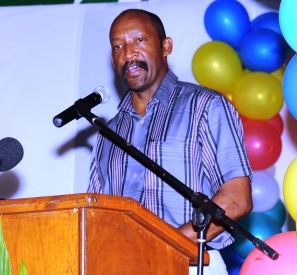 Also present were the MNAS for Grand Anse, Marc Volcère; for Baie Ste Anne, Natasha Esther and for La Digue & the Inner Islands, Chantal Ghislain, as well as the districts' administrators.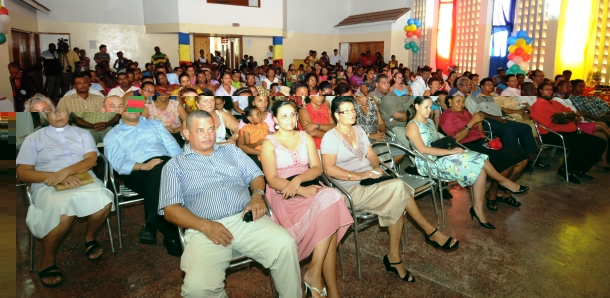 The ceremony began with a prayer and blessing by the Praslin Anglican parish pastor Simon Fred.
After a couple of the many cultural presentations, a well-known veteran nurse, Christianne Jeannevol, shared a reflection with the audience, consisting of people of all ages and differing backgrounds.

She said that as a nurse, she had always valued the importance of hard work, as stressed by President James Michel.
She said when she took up nursing at a young age, there was "no theme to guide us".

Ms Jeannevol said many times, they were called upon to accompany a very ill patient to Mahe on a schooner. "We did not regard it as a hardship, but as a duty, and when the patient got better, we felt good as we had helped save a life."
She called upon citizens past their 60s to offer their experience to the youth who still have the health and strength to build a new Seychelles.
This was followed by another reflection on the importance of hard work by Jude Johnny, who grew up on Silhouette.
Mr Meriton said that Praslin and La Digue, in many ways represent the spirit of hard work and quality of development, referred to by President Michel in his state-of-the-nation address last month.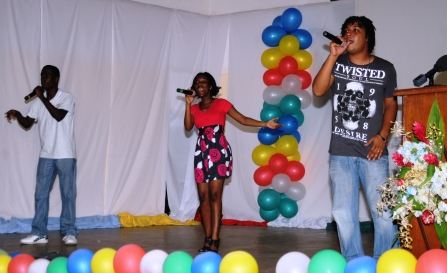 He said that Praslin and La Digue have adopted positive change without losing their unique identities.
"Praslin and La Digue have innovated and adapted intelligently," he said.
Mr Meriton said that it was the spirit of hard work of the Praslinois and Diguois that have enabled their islands to adapt to change.
In the same way, he said, it was the love of the environment which prompted them to preserve this natural heritage which today constitutes the main source of their daily bread.
Mr Meriton said that the 2012 national theme calls on everyone to work hard for Seychelles. He added that Praslinois, Diguois and other Seychellois born on other islands, all have a significant contribution to make to ensure the continued development of our country.
Mr Meriton recalled that in his recent address, President Michel had, while speaking about the new Seychelles, stressed that there was no place for parasites. Those who work hard will be rewarded accordingly. For those wishing to progress, the opportunities are there to prove themselves and contribute.
"In 2012, the time has come for each and everyone of us to shoulder our responsibilities. That is the gist of government's message. A former theme -- Renesans Sosyal -- and the 2012 theme , have the same message," he said.
Before Mr Meriton's address, the audience was able to watch an interesting video documentary, produced by La Digue & Inner Islands MNA, Chantal Ghislain, a former SBC journalist, in which she highlighted the value of hard work, through the success of several Praslin and La Digue entrepreneurs.
These include a nurse, a craft dealer, a restaurateur, a farmer and a tailoress.
What they have in common is that they all started very small and through sheer hard work and perseverance their business have grown and prospered.