Libya celebrates first revolution anniversary
19-March-2012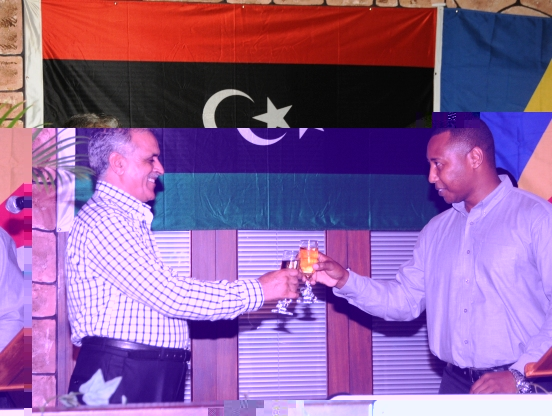 A number of guests were present for the occasion, including former President James Mancham, Foreign Affairs minister Jean-Paul Adam, Employment and Resource Development minister Idith Alexander, secretary of state Barry Faure, and members of the diplomatic corps.
The acting chargé d'affaires of the Libyan Embassy in Seychelles, Mohamed Ali Aoun, addressed those present, saluting "the martyrs of Libya who have made sacrifices for their country's liberation from dictatorship".
He also conveyed greetings from the chairman of the National Transitional Council Mustafa Abdul Jaleel and the government and people of Libya to President James Michel and his government, and wished the Seychellois people the best of health, progress and prosperity.
"I also convey his (Mr Abdul Jaleel's) thanks to all the brothers and friends who stood up and supported us in that difficult stage and for their continued support extended to the Libyan people in their struggle for freedom and dignity," he said.
Mr Ali Aoun added that the Libyan people will never forget the attitudes of brotherly and friendly countries who have stood with them and stretched out their hands to cooperate with all on the basis of mutual respect and respected the choice of the Libyan people.
"The new Libya is determined to move forward towards building constitutional institutions, respect for human rights and the rule of law and peaceful transfer of power," he said.
"We are in this day re-affirming that we look forward to the fruitful constructive cooperation and Libya will not forgive those who try to undermine its security or stability."
Foreign affairs director general Joseph François also spoke on the birth of a new Libya, saying the revolution has proved that repression is a dead-end and that police power is no match for people's power seeking dignity and justice.
"This is a reminder that leaders must listen to their people," he said.
"We meet today about the building of a new Libya, a Libya that reflects the hopes and aspirations of the people, where national reconciliation, justice, inclusiveness, dialogue and respect for human rights and the rule of law prevail," said Mr François.
He added that Seychelles last year joined many countries around the world in recognising the National Transitional Council (NTC).
"Our government felt, following months of violence and devastation, that the NTC authorities are better placed to represent the interests of the Libyan people and help the country take the necessary steps to achieving democracy," he said.

"Today Seychelles remains firm on the fundamental principles of democratic elections, but as Libya had no electoral mechanisms in place yet, we felt that the process should be Libyan-led."

Mr François also reassured the Libyan people of the strong support of the government and the people of Seychelles in their endeavours.

He then proposed a toast with Mr Ali Aoun to the continued friendship and solidarity, after which the Minister Adam joined Mr Ali Aoun in cutting a cake designed like the Libyan flag.