Siba rewards best corporate service providers
19-March-2012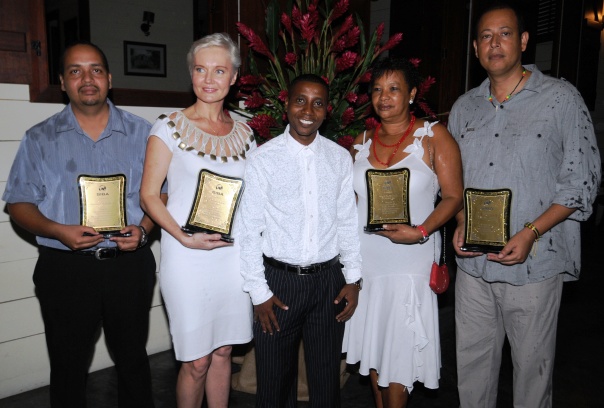 The awards were handed over during an annual cocktail organised recently by the Seychelles International Business Authority (Siba) at La Plaine St Andre.
Guests included former President James Mancham, the former Minister for Investment, Natural Resources and Industry Peter Sinon, Attorney General Ronny Govinden and members of the diplomatic corps.
Others included chief executive of the Seychelles Investment Bureau Sherin Renaud, president of the University of Seychelles Dr Rolph Payet, representatives of corporate service providers and staff of Siba.
Apollo Business Solutions was recognised as the international corporate service provider with the highest number of International Business Company (IBC) incorporations, followed by Intershore Consult with the second highest number, and Mossack Fonseca & Co (Seychelles) in third place.
Rupert Simeon received a trophy for being instrumental in representing Seychelles at the Global Forum and for actively taking part in the double taxation agreement negotiations.
Speaking at the event, Steve Fanny – who was then chief executive of Siba -- said Seychelles is a reputable jurisdiction and dominates certain niche in the overall international business activities.
He thanked all corporate service providers for contributing to the Seychelles economy.
"The offshore industry has grown at an exponential rate in spite of the many challenges being unleashed at our peril," he said.
Talking about the achievements of Siba, Mr Fanny said the authority has been able to build capacity in its staff.

He added that they have gained experience to better regulate the industry to help make it more prosperous.