Investment bureau expects better synergy under finance ministry
23-March-2012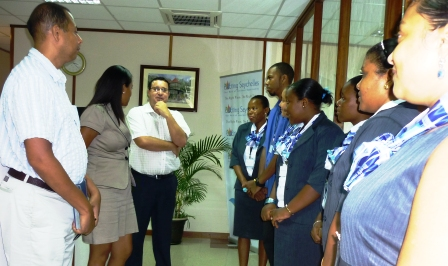 SIB's chief executive Sherin Renaud said this after Minister Pierre Laporte – under whom the ministry now falls – visited the 20-strong organisation at Caravelle House on Wednesday.
He was accompanied by Rupert Simeon, the director general for policy and strategy in his ministry.
"We welcome the fact that the investment portfolio has been placed under the same ministry with Finance and Trade," she said.
Ms Renaud said in view of the work the SIB is doing in the business environment where consultations are ongoing, working directly will greatly help the partners work in tandem when implementation of agreed programmes comes.
"To effect many of the plans we need resources and this is the ministry with such resources," she said.
"Working closely with the departments within the ministry will bring along plenty of synergy in the future," she said.
"We are also happy that the minister under whom we fall has found time to call on us because we believe when there is new leadership it's good for staff to be acquainted with the person directly overseeing their work," she said.
"It also shows the person is interested in the particular work the organisation is doing and boosts morale," she said.