School of Music gets new donation from Swedish counterpart
24-March-2012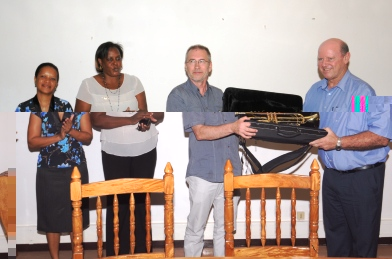 Hakän From, a rector from the Swedish school, handed over the donation to the Minister for Tourism and Culture Alain St Ange in the presence of principal secretary for culture Benjamine Rose and special adviser for culture Raymonde Onezime.
A memorandum of understanding (MoU) was signed last year between the School of Music and the Swedish school.
The MoU has now been amended and two articles have been expanded. The addendum reflects the discussion and new ideas that came about after the first official visit of the Swedish counterparts to Seychelles.
The addendum was signed after the hand-over of the donation by Mr From and head of music programme at the School of Music, Jerry Souris.
New aspects of the MoU includes looking into the possibility of extending assistance to the School of Dance and engaging dance teachers and students in an ongoing exchange for a two-month exposure with the right timing and funds.
Mr St Ange said the cooperation is a very important way of moving forward.
He thanked Mr From on behalf of the government and said he hopes that the relation between the two countries will solidify.