Carnival lottery winners receive prizes
24-March-2012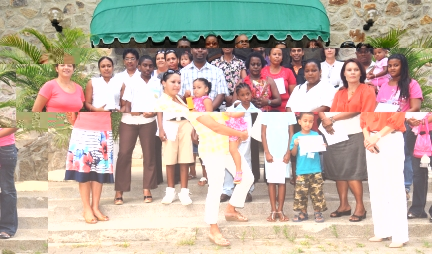 The chief executive of the Seychelles Tourism Board (STB), Elsia Grandcourt, handed out the prizes in a ceremony on Monday at the STB's Bel Ombre headquarters.
The Star Prize of the lottery -- a Hyundai i10 car sponsored by STB -- was won by S. Mathiot of Anse Aux Pins. The car was not available for the presentation ceremony, as it is only arriving in a few weeks' time.
Before presenting the prizes, Ms Grandcourt thanked all the sponsors, who she said had helped make the carnival the great success that it was.
She said that even several weeks later recognition and appreciation is still coming in from all over the world, adding that there are foreign countries and organisations which have expressed interest to take part in next year's event -- to be held from February 8-10.
Ms Grandcourt hinted that next time there could be other co-sponsors of the carnival, besides La Reunion.
Ms Marie-France Mcgregor, who was responsible for organising the carnival lottery, told of how she got the manager of the Berjaya Beau Vallon Bay Resort & Casino, Ken Choo, to contribute and subsequently two sets of lottery tickets was marked in the resort's name.
When the hotel won, Mr Choo generously decided to donate the R20,000 to the President's Village at Port Glaud.
The first prize of R50,000, sponsored by the Ramadoss group of companies, was won by Marie-Ange Bijoux.
The second prize of R20,000, sponsored by Sunset Hotel, was won by Berjaya Beau Vallon Bay, which in turn had sponsored the 3rd prize -- R15,000 -- won by Samuel Rath.
The 4th prize of an air ticket to any Emirates destination, offered by Emirates, was won by Ashvin Lablache.
The 5th prize, another air ticket to a Qatar destination, offered by Qatar Airways, was won by Charlevienne Port-Louis.
The 6th prize, still another air ticket to an Etihad destination, offered by the airline, was won by Mike Maria.
There were twenty prizes in all, including many cash prizes sponsored by STB.