Local artist showcases art work expressing colour
24-March-2012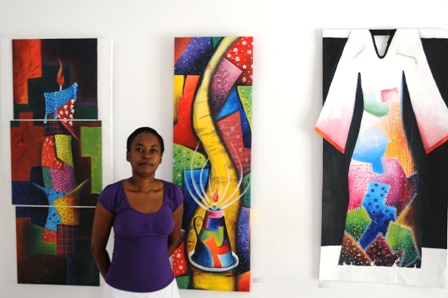 Mrs Marie said it took her around three years to complete her work which is inspired by colours all around us.
She added that the main objective of the exhibition is to raise money – through an auction sale – for holiday activities for children all over the country.
"Being in charge of the Children Ministries at the Seventh Day Adventist Church, I'm always looking out for children and what I can do for them," she said.
She has already sold three pieces of her art work.
Mari Mai also said she is grateful to Ambassador Marie-Pierre Lloyd for accepting to launch her exhibition.
"It makes sense to me as she is the Ambassador for women and children in Seychelles," said Mari Mai, who added that "the content (of the exhibition) is really about our everyday lives and how colours are infused into everything we do, say and feel."
One example is her art piece Colour of Your Heart, which has been created alongside a poem written by herself and which explores elements of expressed emotion together with colour.
"Sometimes when I am creating a tableau, an accompanying poem will often pop into my head," she said, adding that she could never imagine living in a world without colour.
R. C-T.