Helicopter Seychelles suspends service for fleet upgrade
26-March-2012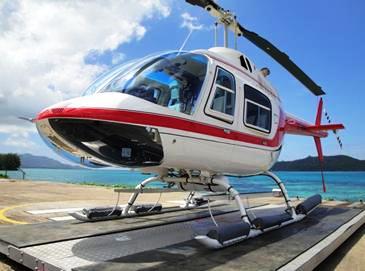 According to a press release from the company, "this follows a cluster of minor incidents involving the company's aircraft, none of which involved personal injury nor the carriage of passengers".
The press release says the decision to suspend operations has been taken in full consultation with the Seychelles Civil Aviation Authority (SCAA), to enable the company to introduce new aircraft and review safety procedures.
The press release quotes Capt Matt Hayes, the company's chief executive, as saying: "We are taking this decisive action today in full co-operation with the SCAA to ensure that the safety of our passengers and crew is never compromised. Safety remains our absolute foremost priority.
"We seek to preserve Seychelles' international reputation as an environment where aviation is conducted to the very highest standards," he is quoted as saying.
With immediate effect, the company will cease temporarily to operate all aircraft from its existing fleet, causing a brief interruption to its operational commitments.
In the coming days, a new aircraft will join Helicopter Seychelles' fleet, providing an enhanced new level of luxury charter service to the nation's inner islands. The fresh arrival – S7-NMK – is the very latest model Bell JetRanger BIII and is expected to receive certification in the next few days.