Up Close … with local poet Stephanie Joubert-Wrapped up in the arms of the Muse
27-March-2012
Her hair was tied back into a relaxed bun and she was constantly crossing and uncrossing her arms as she spoke to me, occasionally tilting her head sideways as if listening to something I wasn't quite hearing.
Maybe it was the way she glanced at me in that relaxed way of hers or maybe it was the air of thoughtfulness about her but I instantly thought of calm breezes and lazy Sundays ¬– or it could simply have been the Bohemian feeling that permeated the air around her and seemed to drift into my breathing space.
Childhood
"Writing for me began when I was around nine years old," she began.
"One of my teachers encouraged me to enter a short story competition for the Creole Festival activities and this unleashed a cascade of numerous poems during the course of the following years."
"It helped that I continuously received prizes as well of course," she giggled.
"Hmm, a little about me," she said, after I had asked the question.
"I'm originally from the Anse Etoile district and lived there until the age of nine when I moved to Mont Buxton.
"Upon reaching the Seychelles Polytechnic, I stopped writing as much so that I could mostly focus on my studies."
Obviously that didn't last long as Stephanie was once again lured back into the awaiting arms of the Muse and the intriguing world of writing.
"I was asked to perform in a recital at the La Rosière school as one of their past students and from then on I was involved in everything poetry related. Whether a recital or simply writing it, I was knee-deep in it," she said, looking thoughtful.
Stephanie said she went through many years of writing poetry until "eventually, a group of us, writers and poets, formed Lardwaz" – an association made up of writers from all walks of life who believe in the abilities of local writers and share a joint vision of them leaving their individual marks in the literary world. Stephanie is actually vice-chairperson of the association.
Inspiration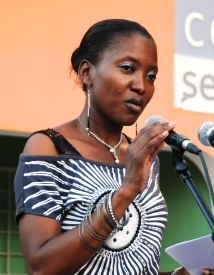 "I find inspiration in things that are alive and in anything deemed 'interesting' really," said Stephanie. She said she draws ideas from everyday situations and life experiences in general.
"I love writing about kids and anything which affects them or revolves around them, especially if it involves social issues. I suppose that's because it has elements of my job associated with it.
I'd like to think I'm a diverse writer though. I can handle writing about almost any situation, be it environmental, social, about love or war.
"What I really love about poetry is that you can create it out of anything and can make a dead or inanimate object come to life," she said with undisguised passion.
"Sometimes just by remaining quiet, observing and listening, one can pick up the smallest and seemingly insignificant detail which could mean a world of difference to a poet's writing."
On style
"I believe I brought my own style to the table because I simply jumped head first into poetry without reading much of what came before me."
Stephanie said she has never really looked to other poets for ideas "but there have been many I have admired such as the likes of Fedora Bistoquet, Justin Valentin and Pat Matyot.
"I've never really followed any international poets but was recently introduced to some popular writings in a workshop hosted by Peter Pierre-Louis and I think it has helped me a lot."
She searched my face for a second or two.
"You know, learning about different styles can be quite an experience. You realise that not everything resonates with what you know and you learn how experiences can be interpreted differently."
Poetry in Seychelles
Poetry in Seychelles is still a budding concept, according to Stephanie.
"It's still taking baby steps here but we do have many people who appreciate the beauty of it," she said.
"What I think is many people don't quite grasp the concept yet and think it's as simple as grabbing a pen and writing whatever on a piece of paper. 'Poetry is easy' is often what you hear which – if you've been in the art as long as I have will know -- it isn't the case at all.
"First of all you must be passionate about the subject you are writing about as well as have a pretty vivid imagination and a knack of putting into words what you feel and see."
In my free time and advice to fledgling writers
"I especially enjoy spending time with my two lovely children and reading. I do love reading," she said, smiling broadly.
"Anything I can get my hands on -- from Agatha Christie to Danielle Steel, especially Danielle Steel."
"My advice to anybody who wants to write is, if you love it, DO it!
"Don't think about it; don't think about publication or you are setting yourself up for disappointment.
"I believe that if you have a love of writing in general you should simply do the best you can to come up with new and original pieces ¬– everyday if at all possible -- but try not to set your goals too far out so that you crash and burn when you don't get what you are expecting.
"I, for example, have already submitted a book with a number of poems in it to the National Arts Council which is yet to be published.
"But I love the art of writing and I love poetry and that's all that counts. If it's your passion, go for it."

By Rebecca Chang-Tave