New move readies Seychellois to better handle investments
28-March-2012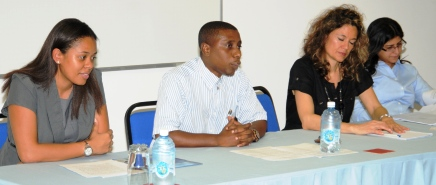 PS Fanny (second left, photo above) addressing the delegates at yesterday's launch of the three-day workshop
They are adding skills in investment treaty negotiations and disputes in a three-day workshop being held at the Seychelles Institute of Management (SIM).
Organised by the Seychelles Investment Board (SIB) in collaboration with the International Institute of Sustainable Development (IISD), the training is being led by consultants Nathalie Bernasconi and Mahnaz Malik, who have ran similar workshops elsewhere in the region.
Present at the launch yesterday morning was principal secretary for finance, trade and investment Steve Fanny, several chief executives and member of the National Assembly Hubert Hoareau.
The SIB's chief executive Sherin Renaud said the training comes at an opportune time, when the government is putting more and more emphasis in ensuring the business environment and climate is one which is conducive for investment.
"It also furthermore aligns with the long-term strategic vision of our country, which is to double our GDP," she said.
"Having a string of contracts is not only a win-win situation for both parties in terms of economic gains but it is also healthy for the development of the country. When every party is fully aware of their obligations under a contract, this ensures that the development can be completed with minimum difficulties and also promotes the culture of accountability and commitment towards the investment being undertaken."
The SIB aims to at the end of the workshop have those who took part be proficient and have better knowledge on issues relating to investment contracts and treaties.
"It is my sincere hope that the information gathered at the end of the three days and skill gains are not shelved, but instead used to the maximum for the benefit of our country," said Ms Renaud.
The IISD monitors the negotiation of investment treaties worldwide and disputes arising from these. They also work with developing countries to develop their policies on investment treaties.
PS Fanny said Seychelles has – over the past few years – signed bilateral investment promotion agreements with three countries in attempts to promote foreign investments and these agreements outline the scope, obligations, rights and privileges of both parties and make provisions for investment protection, fair and equitable treatments, expropriation of profits and many more.
"Commitments made under an investment treaty or agreement are here to stay for the entire duration of the arrangement and it is important that those involved are well versed in treaty negotiations and that our treaties also reflect international norms," he said.
"At this stage in our economic development, Seychelles needs foreign investment and finding the right investors with Seychelles' interest at heart is not always an easy task. We therefore have to be mindful of the long-term effects these investments may have, if not negotiated properly from the outset, which could mean legal implications, the augmentation of costs, socio-economic and environmental impacts on our limited resources," he said.
The training will come to an end tomorrow.