New soldiers asked to honour 'service before self' rule
29-March-2012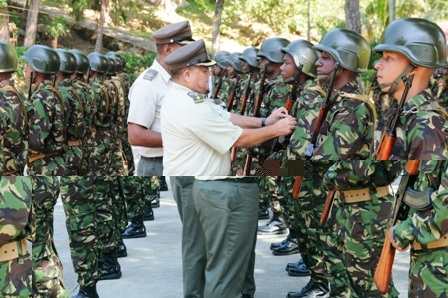 In a passing out ceremony held on South-East Island, the new recruits were officially welcomed into the SPDF family, in the presence of other officers, family members and friends.
Also present was the chief of staff Colonel Clifford Roseline and other high-ranking officers, including members of the defence council and the Seychelles Defence Academy commandant Simon Dine.

After an inspection of the parade by Colonel Roseline, the recruits took their oaths and got their national flags from the chief of staff.
New recruit Leonelle Fanchette addressed those present on behalf of his colleagues, where he said their strong wish to become soldiers has not let obstacles stop then from surmounting challenges on their path to success.
"We realise that the military is not a career, but rather a calling that we have received. "Determination, perseverance, cooperation and a strong sense of morality are some of the qualities that have helped us to accomplish our aims and we are proud to stand here today," he said.
Private Ryan Azemia received a batch of certificates on behalf of his colleagues for all those who had taken part in a basic first-aid course, hosted by the local Red Cross, given out by the organisation's representative Colette Servina.
There were also various awards given out during the ceremony, such as the certificate to the best senior non-commissioned officer, which was won by Sergeant Ebrian Charles.
The best overall recruit was Nigel Albert, who also won the best academic recruit award. The best outdoor recruit prize went to Iven Moïse.
In a Private Level 3 course, which was held from January to February, the best overall prize for the course went to Private Anthony Lebon.
In his speech for the occasion, Colonel Roseline told the recruits' that their enrolment has confirmed their determination to sacrifice all other personal activities for the well-being of their country.
"During the past month, your training programme was a well-charged one and you have put into practice all the military operations required of you and now you have a better and much clearer idea of military life," he said.
"It has also been a good idea to attach you to various military units, so that you will be able to make the best possible choice on your future career."
Colonel Roseline added that to be able to face all our challenges, Seychelles needs a defence, a modern and efficient force to assure our land and sea are always safe for economic activities such as fishing and tourism, which are the pillars of our economy.
"I also appeal to all officers and other ranks in the SPDF to guide these young people in the right direction and to help instil in them a sense of responsibility and efficiency," he said.
After welcoming them into the SPDF family and wishing them well, the parade marched off the grounds after saluting the chief of staff.