Seychelles and Angola poised to strengthen bilateral relations
29-March-2012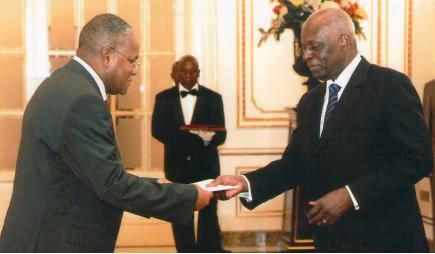 During the audience with President Dos Santos, the High Commissioner conveyed to the President fraternal greetings from President Michel and discussed a number of issues ranging from political development in the Indian Ocean region and in particular the SADC region, of which Angola holds the chairmanship, as well as trade and other developmental issues.
Piracy was also one of the issues discussed, especially in the context of the recent London conference on piracy and the need to address the issue of Somalia. The conference on Somalia was crucial in that it addressed the piracy and Somalia issue in a holistic manner. In this context Angola as the chair of SADC will continue to give full backing to the SADC maritime strategy to combat piracy.
On Madagascar, the efforts of the SADC in the mediation process was applauded and High Commissioner Nourrice indicated that Seychelles, as the current chair of the Indian Ocean Commission, stands ready to help the SADC in the implementation of the roadmap – the only way to move Madagascar out of this political crisis.
President Dos Santos expressed appreciation to Seychelles for the active role played in the affairs of the SADC and the support to the chair.
During meetings with other Angolan officials, discussions touched on trade, commerce and investment, visa waiver, sports and cultural exchanges, food security and oil exploitation among others.