Athletics: National Junior Championships-Youngsters clock PBs
29-March-2012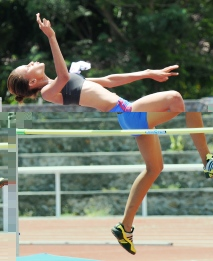 To add spice to the track & field events at Stad Popiler, the organisers – the Seychelles Athletics Federation – called on senior athletes to compete as invitees alongside the juniors.
Janet Boniface, Joanne Lou-Toy, Danny D'Souza, Leeroy Henriette, Mervin Loizeau, Yannick Ernesta, Jude Sidonie, Travis Hardy, Lester Dogley and Jude Sidonie are some of the senior athletes who responded to the call and helped push youngsters like Leeroy Gamatis and Jean-Yves Esparon to achieve personal best (PB) times and height in the sprints and high jump.
Esparon got two PBs in the 100m and 200m. In the 100m sprint event on day one – Friday – he clocked 11.05 seconds to finish third overall behind race winner – senior sprinter Danny D'Souza (10.95 seconds) – and runner-up Leeroy Henriette, also a senior, (11.03 seconds). He then won the 200m event in 21.96 seconds on the second day of the championship.
A week after clearing the bar at 1.90m in the Special Events final competition, high jumper Leeroy Gamatis came to the track & field garden – the Stad Popiler – with a vengeance on Saturday. After veteran Jude Sidonie had achieved 1.95m, the pressure was on Gamatis and he lived up to expectations as he flew over the bar for a personal best height of 1.95m. Both Sidonie and Gamatis failed their three attempts at 2m.
The junior event winners of the championship are: Lissa Labiche (female 100m in 13.37 seconds, long jump with 5.69m, and high jump with 1.65m), Jean-Yves Esparon (male 100m in 11.05 seconds and 200m in 21.96 seconds), Hilarie Robert (female 1,500m in 5 minutes 43.61 seconds and 3,000m, no time), Samuel Moustache (male 3,000m, no time), Ezra Almaze (female 400m in 1 minute 02.83 seconds), Kevin Harryba (800m in 2 minutes 07.3 seconds), Marie-Helen Rose (female discus with 32.43m, shot put with 11.52m, hammer with 26.46m, and javelin with 34.21m), Dean William (male discus with 31.79m, shot put with 13.42m, and hammer with 52.17m), Nerry Luc (male long jump with 6.82m), Lisssa Agnes (female 800m in 2 minutes 32.0 seconds), Diane Nioze (female 200m in 27.34 seconds), Angela Boniface (female 2,000m walk in 15 minutes 06.70 seconds), Rennick Belize (male 2,000m walk in 11 minutes 59.01 seconds), Travis Boniface (male 1,500m in 4 minutes 34.89 seconds), Leeroy Gamatis (male high jump with 1.95m), Stephen Souris (male javelin with 31.99m), Peggy Rachel (female triple jump with 9.82m), Alvin Kilindo (male triple jump with 13.31m), Top Racers (female 4x400m relay in 4 minutes 37.30 seconds), Shooting Star (male 4x400m relay in 3 minutes 25.99 seconds), Top Racers (female 4x100m relay in 52.15 seconds) and Fast Track (male 4x100m in 45.09 seconds).