Unemployed youths learn to make local products
31-March-2012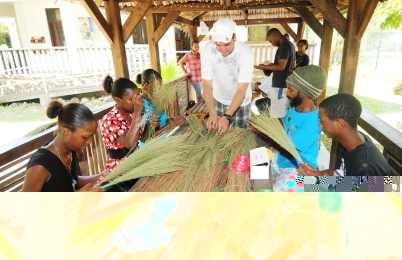 This was through two workshops organised by the Seychelles National Youth Council (SNYC) recently at the English River Youth Centre.
The sessions were led by Suganda Betioux and Franky Athanase, who taught the youngsters basic skills and techniques needed to make local brooms such as balye zig and balye fatak, and fler leba.
Present to welcome the youngsters were SNYC chief executive Vicky Van Der Westhuizen, who said the workshops will help the young people to make products that can help then earn pocket money.
"We want to start with skills they will be able to broaden and develop after the workshops," she said.
"The skills they will acquire will help them to earn at least a pocket money as a beginning and then later on develop in a business if they wish to do so."
The products made from the workshops will be among many others to be exhibited at the end of the year.
M. B.