National Institute of Health and Social Studies graduation-Lindy Rath wins the President's Cup
31-March-2012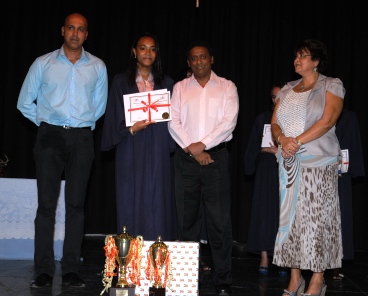 She received the award from Vice-President Danny Faure during the National Institute of Health and Social Studies (NIHSS) graduation ceremony yesterday afternoon at the National Theatre, Mont Fleuri.
Also present at the event were Designated Minister Vincent Meriton, Speaker of the National Assembly Dr Patrick Herminie and Leader of the Opposition in the National Assembly David Pierre. Education Minister Macsuzy Mondon and Health Minister Mitcy Larue were also there with their principal secretaries Merida Delcy and Veronique Laporte as well as members of the National Assembly and other high government officials.
The NIHSS director Rodney Philo also attended the graduation along with parents of the students.
A total of 20 graduates got certificates for having completed courses at the institute – 15 have followed the three-year diploma in nursing course. A group of five in-service students received their advanced diplomas in health and safety, an 18-month course.
During the ceremony there were also awards for best performer in the diploma in nursing course which went to Aysha Fostel. And the best practice award in the same course went to Alice Mancienne.
The best performer in the advanced diploma in health and safety went to Yvonne Legaie.
After receiving their certificates all graduates recited the Hippocratic Oath normally taken by healthcare professionals, who swear to practice medicine ethically.