Athletics-International track and field competition to become annual event
31-March-2012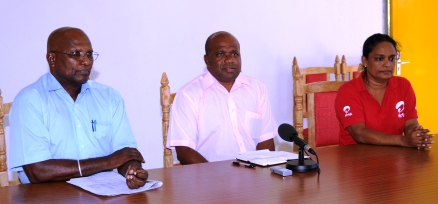 Mr Volcère was speaking at a press conference yesterday at the NSC boardroom to give technical details of the competition which will be held from April 20-21 at Stad Popiler.
It will gather young athletes from the seven best performing secondary schools during the 2011 National inter-schools Athletics Championship – Praslin, Anse Royale, English River, Plaisance, La Digue, Pointe Larue and Beau Vallon – alongside athletes from the International School of Kenya.
The inaugural competition is being jointly organised by the Seychelles Athletics Federation, local telecommunications company Airtel, the Ministry of Education and the NSC.
Also present were the regulatory affairs and public relations person at Airtel, Gail Talma-Jumeau, and the chairman of the Seychelles Athletics Federation, Selby Dora.
Mr Volcère said other than the competitive aspect the 'Seychelles Track & Field Schools Invitational Meet' is also aimed at promoting friendly exchanges.
On the technical aspect, which will be the responsibility of the local athletics body, Mr Dora said everything will be in place in terms of logistics and manpower. He added that the athletes will compete in the under-14, under-16, under-18 and under-20 categories.
Ms Talma-Jumeau explained that Airtel's initial involvement with the competition was as a facilitator in setting up contacts for the event which was previously hosted by Egypt. She added that they later decided to become fully involved as part of the company's social and corporate responsibilities which include helping in youth development.
R. D.