Whitney Houston shows proceeds to refurbish drug rehabilitation centres
02-April-2012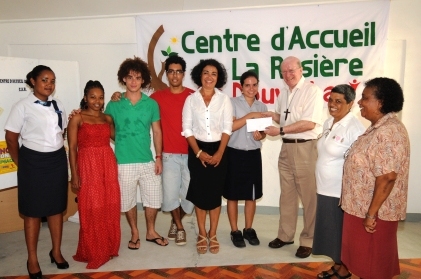 These are the Centre d'Acceuil de la Rosière (Car) – which accommodates men and another at La Misère which takes in women.
The centres have only recently joined the national fight against drug and substance abuse in the country.
Lyndsay Hermitte, daughter of Monique Hermitte – who initiated the shows – on Friday handed over a cheque for R37,000 to Car board chairperson Bishop Denis Wiehe in the presence of Car director Jocelyn Florentine and board member Sister Alice.
Also present were the artists who performed during the two shows, held at the International Conference Centre on March 10 and 11.
Renovation and refurbishment works on the two centres are already underway.
Well-known and amateur artists, accompanied by the Zenith Band performed popular hits of recently deceased American singer Whitney Houston in two moving tribute shows which were attended by local fans and other admirers of the artist. Among her most popular hit performed were I will always love you, Saving all my love for you and I have nothing.
Among well-known local artists who paid tribute to the late legend were Antoinette Dodin, Angelique and Jahna.