UP-CLOSE … with basketballer Jim Domingue-Swimmer-turned-basketballer shoots and wins with Hawks
03-April-2012
The second oldest basketballer in the local league behind 47-year-old Gonzague 'Loupi'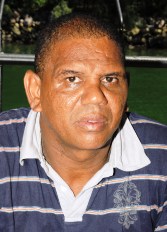 Agrippine of MBU Rockers, Jim, who plays as a power forward and has captained PLS Hawks to winning a host of titles, attributes his stamina and good sportsmanship to the fact that he has never been a smoker, not even a drinker.
But the irony is that Jim nearly did not take up basketball. He explains that after growing up at Les Mamelles and going to primary and secondary school, he became a very enthusiastic swimmer during the two years spent at the former National Youth Service (NYS).
Undoubtedly, few boys can remain indifferent to the splendid beach of Port Launay (the site of the former NYS), where Jim was in 1985 and it was not long before he was swimming like a fish.
His performance did not go unnoticed and he got to hear that he was being considered for the national swimming selection for the IOIG scheduled in Mauritius in 1985.
Great was his disappointment when Jim heard that for reasons unclear, he was dropped. He told me that was when he turned to basketball, joining his district team of Plaisance under the zoning system.
Zoning was the time when the official sports policy obliged sportsmen and women to play for the teams of their districts or geographical zone.
In later years (1993), when sports switched back to the club system, Plaisance were called 'PLS Hawks', which means he has been dribbling and shooting for the same team for the greater part of his life.
After two years at the Seychelles Polytechnic, where he studied engineering and electrical installation, Jim joined the former Union Lighterage Company (ULC) where he remained for three years. He then joined the Land Marine company – the shipping handling agent – and worked there for 16 years. Jim later switched to Hunt, Deltel & Co Ltd, most of the time carrying out mechanical and electrical repairs on fork-lifts.
If Jim missed the 1985 IOIG in Mauritius, he had no problem getting selected for the Island Games in Antananarivo, Madagascar in 1990.
His first glorious moment was to come in 1993 when Seychelles hosted the Games for the first time. Playing alongside players like Larry Moustache, Gonzague Agrippine, Peter Nicette, Georges François, Elvis Gappy, Gerard Niole, Dave Furneau and Heribert Derjacques, he helped the Seychelles team, coached by Paul Denis, reach the final against Madagascar. Seychelles just missed the gold, taking the silver!
He also represented Seychelles at the IOIG in Reunion in 1998 and again in 2003 in Mauritius.

With the number 13 on back, Jim has since made the drop in favour of younger players, though he is still playing for PLS Hawks.
A true basketballer and fan, Jim did not miss a match at last year's IOIG when the Seychelles team struck gold for the first time, sending the crowd at the Palais des Sports wild with joy.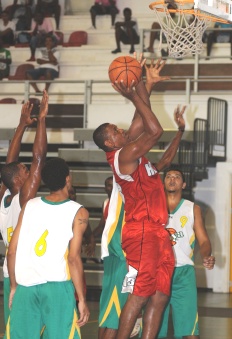 Last year, Jim helped PLS Hawks extend their first division championship wins to seven in 12 years – in 2001, 2002, 2005, 2007, 2009, 2010 and 2011 – making them the most successful team of the club era which started in 1993.
He has started the 2012 season on a good note, winning the Curtain-raiser tournament with an 83-60 win over Premium Cobras in the final.
Soon going on to 45, Jim is now thinking of taking up coaching. "I intend to continue helping the sport as long as I have the strength to do so," he says.
Meanwhile, he enjoys watching European football and is a Liverpool supporter.

Locally, he prefers St Michel, the long-time champions, who to him appear to be the football team with the most reliance.
Commenting on the fact that St Michel have not performed well so far this season, Jim has this to say: "You know. Most teams have their ups and downs. Sometimes, players depart and that affects the morale. It is up to the captain and the coach to take corrective measures and adapt accordingly."
That is an advice he clearly puts into practice by planning well ahead, staying healthy and upbeat.

By John Lablache