Beach Volleyball-Veteran Sophola and Lozaique win top prize
03-April-2012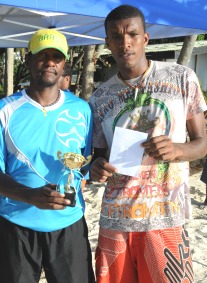 Veteran player Perrin Sophola teamed up with Daniel Lozaique under the blazing sun at Beau Vallon to win this year's first beach volleyball contest, while the loyal duo of Maya Biong and Teryl Songoire went home with the women's top prize.
The two-day tournament played at the Beau Vallon beach was organised by the Seychelles Volleyball Federation and jointly sponsored by Cable & Wireless and the ISPC.
Sophola and Lozaique, who play for Beau Vallon, won the final 2-0 against the Racing Club duo of Tony 'Yeboah' Songor and Nigel Ernesta. The set scores were 21-14 and 21-13.
Daniel Rose and Jean-Paul Agathe finished third overall.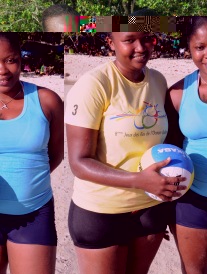 In the women's competition, Cascade's Maya Biong and Teryl Songoire once again proved their superiority and perfect coordination with an easy 2-0 final win over Kelly Matombé and Enzel Melanie. Biong and Songoire easily won the two sets 21-12 and 21-7.
Arsu's Marie-Helen Rose and Marie-Antoine Gilbert finished third overall.
As prizes, the winning teams received a trophy and R3, 000, while the runners-up got a trophy and R2,000. The third place finishers pocketed R1, 000 and a trophy.
The winners received their prizes from Charles Adeline of the ISPC and Terry Servina of Cable & Wireless.
R. D.