'Air Seychelles remains our national airline'
04-April-2012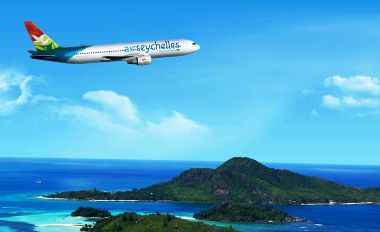 The Minister for Home Affairs and Transport said this in the National Assembly yesterday when answering a private notice question by the leader of the opposition in the Assembly David Pierre relating to Air Seychelles' strategic plan.
Mr Morgan noted that Air Seychelles remains our national airline and it is not Etihad Airways.
"Etihad Airways is a shareholder and partner in Air Seychelles," Minister Morgan pointed out.
He stressed that even though our airline is being managed by Etihad under their recent agreement, its brand flying the Creole Spirit remains unchanged.
He noted that the new airbus A330-200 to be delivered in June will fly Air Seychelles' colours and this will apply to all new planes the airlines will acquire in the future added Mr Morgan.
Apart from Minister Morgan the Minister responsible for Labour & Human Resource Development, Idith Alexander, also answered other aspects of the question.
In view of the fact that many Seychellois have lost their jobs in the Air Seychelles restructuring process, Mr Pierre wanted the ministers to explain:
- What went wrong and led the airline to make such losses and if there were no other options than the partnership with Etihad Airways?
- How many workers altogether have already lost their jobs and those who will lose their jobs in the future and the socio-economic impact on these workers and their families?,
- The government's plan to ensure that those people are put in a new job in the shortest possible time,
- The basis used to calculate compensation payment and when will they all receive their money; and
- With regard to the strategic plan, when will Air Seychelles as a brand regain its true identity to continue flying the Creole Spirit?
Minister Morgan explained the difficulties being faced by Air Seychelles adding that the aviation industry worldwide is vulnerable with various factors, namely economic which could have a great impact on the commercial sustainability of an airline. He noted that the airline's case has been evaluated by both local and international auditors and all the facts proved that all the losses it has incurred resulted from the high costs of fuel and maintenance, fluctuation in exchange rates and loss of profits.
As the government could no longer sustain the cost of helping the airline financially a strategic partner had to be found to help mitigate the negative impacts of the challenges being faced and provide the airline with the funds and economies of scale such a partner would bring, said Mr Morgan.
"This was found to be the best option to pull Air Seychelles out of the financial crisis," said Mr Morgan.
He added that through this partnership Air Seychelles is not only benefiting financially but also with new planes and their maintenance, code sharing on most of Etihad Airways' global routes, training at all levels for its staff, career development opportunities within Air Seychelles as well as Etihad Airways overseas, among other benefits.
With regard to employees, Mr Morgan said the first phase of the airline's restructuring programme in January saw 166 workers being made redundant – 146 locally and 20 overseas.
Another 250 workers are expected to be affected progressively until the end of the year, as the airline continues with the second phase of its restructuring and down-sizing programme.
The 250 affected employees are being offered the option to either choose voluntary departure or stay with the airline and be redeployed in positions available with Etihad Airways if they meet the requirements.
"For those who will not be able to be redeployed they will be made redundant and paid all their benefits," said Mr Morgan.
The minister noted that the 250 workers concerned include those who have already submitted their resignation and there are 50 of them, those who will not be redeployed within Etihad Airway and those who have opted for voluntary departure.
As of March 30, 24 employees had chosen to leave voluntarily.
Mr Morgan noted that the same redundancy rules will apply where the employees will receive all their benefits in line with the Employment Act. Above that they will also receive one month pay for those on contract and two months pay for normal employment.
Meanwhile, Minister Morgan said Air Seychelles is working closely with the Ministry of Labour & Human Resource Development to ensure that all employees made redundant are redeployed as soon as is possible.
He also said the airline's retraining programme is already underway with 25 pilots receiving training to fly airbus carriers while 72 cabin crews will start training soon to work on these planes.
The training is being funded entirely by Etihad Airways. There are at present 93 cabin crew working on Air Seychelles' international routes.
Minister Morgan noted that all staff who complete the retraining programme will be reappointed by Air Seychelles.
Minister Alexander said an office is being set up with private employment agencies to make it easier for affected employees to be placed in new employment.
With regard to compensation payment, Minister Alexander said this is in line with regulation 24 of the Employment Act and all employees have already been paid their compensation since February.