NCC trains first group of children first aiders
05-April-2012
Specifically designed and adapted for children at the request of the National Council for Children (NCC), the course was delivered by professional first aid instructor Anne Rose-Innes at the NCC headquarters, Bel Eau.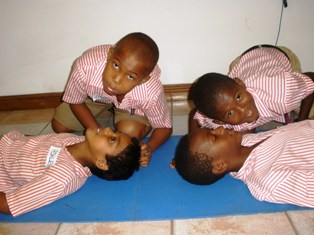 The first group of primary six students from Pointe Larue school learnt what action to take in emergency cases and were exposed to simple, practical and effective first aid skills on how to deal with dangers in the home, garden and school environment.
The children learnt how to protect themselves against infections, and how to put someone in recovery position if unconscious, how to deal with different situations such as what to do when someone is choking, how to handle wounds and bleeding, burns, asthma and how to handle musculoskeletal injuries, etc.
These were demonstrated in a fun and relaxed manner with the instructor using power-point presentations, videos and practical examples.
The knowledge gained was further re-enforced through frequent demonstrations and do-it-yourself sessions. To ensure that learning had taken place, Mrs Rose-Innes quizzed the students throughout the day.
"It was really very encouraging to see the keenness and enthusiasm of the youngsters. They grasped the fundamentals of first aid very quickly," said Mrs Rose-Innes.
"The knowledge gained will benefit our school community and our home," said one of the students.
Each student received a junior first aid booklet, a personal ID card and gloves to wear whenever they have to put their new acquired skills to good use.