SCCI offers tourism further support
05-April-2012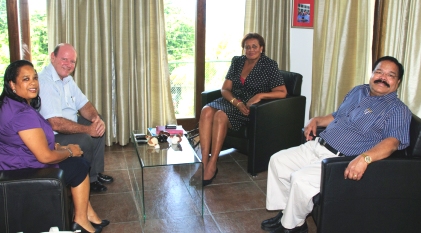 SCCI chairman Dr V. Ramadoss led the delegation, and was accompanied by Germaine Michaud, the chamber's secretary general and Wendy Didon, an SCCI councilor.
"We wanted to assure the minister of the SCCI's continued and heightened support for this key industry which remains a key pillar of the country's economy," Dr Ramadoss told Nation after the meeting.
"We made it clear to Mr St Ange that he can count of the Chamber for the initiatives that are being pushed by the industry," he said.
Mr St Ange said the meeting was cordial, "and it was reassuring to know that the chairman of the SCCI is standing firmly behind the Ministry of Tourism and Culture".
"Seychelles needs to move forward to consolidate the industry that remains the pillar of its economy. Many will require a mindset change to adapt that tourism is not a bureaucracy with red tapes, but one that needs practicality and adaptability as it hears the views of the trade at large" said Mr St Ange.