Senpa plans to develop two Grand Anse Mahe sites
09-April-2012
Newly appointed Senpa chief executive Penny Belmont said one is near the beach, close to the playing field and the other near the garage on the opposite side of the road from the church.
She said that for the second site, the plans have already been drawn up. Part of the site is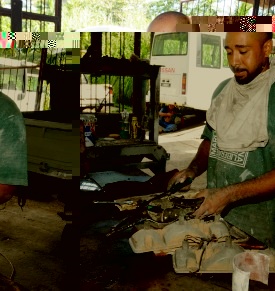 already occupied by a motor garage and the other by a maintenance and electrical contractor.
Ms Belmont, who was accompanied on the site inspection by Land Use and Housing Minister Christian Lionnet and the member of the National Assembly for Grand Anse, Lenny Lebon, said there is scope for manufacturing and other ventures.
"It appears many people view Senpa as being solely concerned with arts and crafts. This is a false perception. We are there to promote all small and medium enterprises. That can range from making of souvenirs to furniture making and from retailing to processing of building material," she said.
She noted everybody who is starting something is a concern of Senpa's, adding that unless a business is grossing several million rupees, it is either a small or medium enterprise.
Ms Belmont said there is already a long list of applicants for the workshops which will go up near the garage.
Mr Lionnet said a recreation centre is planned parallel to the Grand Anse beach. These will include kiosks where crafts will be sold to visitors. Some kiosks may also offer refreshments and snacks to the general public.
"This place has enormous potential," he said. "The youths will be given every encouragement to tap it and develop their enterprising spirit."
John Lablache