US Secretary of the Navy calls on VP Faure
10-April-2012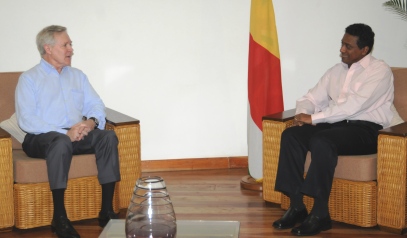 They were joined by the Minister of Foreign Affairs, Jean-Paul Adam, and US Chargé d'Affaires Troy Damian Fitrell for the talks which focussed on defence and security in the Indian Ocean.
Talking to the press after the meeting, Mr Mabus – who is accompanied by a strong delegation from Pentagon on this two-day visit – noted that two-thirds of the world's oil passes through the Indian Ocean.
He said he and Mr Faure discussed many ways whereby Seychelles and the US can work closer together to secure the sea lanes for international trade.
Mr Mabus said Seychelles has in recent years become not only the regional leader, but the world leader in the battle against piracy which is plaguing this part of the Indian Ocean.

He said the US is also playing its part in countering piracy and in this regard, Seychelles is viewed as an important port of call for US navy ships, adding that such patrols will be extended in the coming months.
He said the talks focussing on the long-term strategy against piracy, follows a meeting at the London meeting between President James Michel and US Secretary of State Hillary Clinton.

Mr Adam said Seychelles and the US are also committed to extending the fight against piracy to include the battle against drug trafficking.
He said the US has already given a commitment that it will contribute towards the setting up of the Anti-Piracy Coordination Centre in Mahe which was agreed at the London meeting, chaired by British Prime Minister David Cameron. The US has also agreed to render any help it can towards securing the freedom of the two Seychellois fishermen held hostage in Somalia since five months.
Mr Mabus is the 75th United States Secretary of the Navy. He leads some 900,000 members of the navy and marine corps and is responsible for recruiting, organising, supplying, equipping, training and mobilising. Additionally, he oversees the construction, outfitting and repair of naval ships and is responsible for implementation of policies and programmes established by the President and the Secretary of Defence.
Prior to joining the administration of President Barrack Obama, Mr Mabus served in several top posts in both government and the private sector.
In 1987, he was elected Governor of Mississippi, becoming the youngest governor of that state in more than a century.