Judo-Dugasse qualifies for London Games
11-April-2012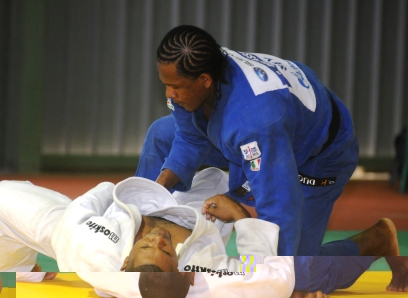 Praslinois Dugasse is among 24 judokas – 10 females and 14 males – from Africa who have qualified for the Games through continental (African Judo Union) quota.
He has so far amassed 30 points in the -100kg category.
With Dugasse qualifying for the Games, Romanian coach Christian Velici has achieved his target set when he took over the Seychelles team.
The Romanian technician is here for a six-month spell under the International Judo Federation (IJF) support programme for small countries wishing to take part in the Olympic
Games.
Only one judoka per country can qualify from the continental (African Judo Union) quota. And a maximum two athletes per category per continental quota can qualify through union quota.
It is hoped that other local judokas get the opportunity to qualify through the tripartite commission invitation places made available for eligible nations. This is in the event of a continental union failing to use its allocation and therefore the remaining place or places will be returned to the International Judo Federation (IJF) which will later distribute them according to world ranking list.
Winner of a gold medal at the international judo championship in Reunion earlier this month, Dugasse and three other local fighters – Francis Labrosse (-66kg, half light-weight), Naddy Jeanne (-73kg, light-weight), Leslie Philoé (-81kg, half middle-weight) – took part in the 33rd African senior judo championship organised by the Royal Moroccan Federation of Judo and which served as qualifiers for the forthcoming Olympics.
By the time of going to press, the results of the four judokas, who are still in Morocco, were not known.
G. G.