Tiny 'green' aircraft lands here
11-April-2012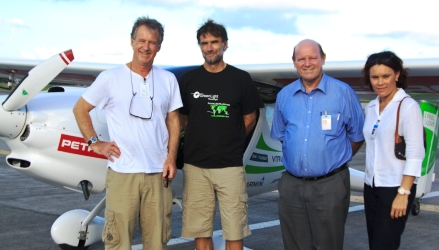 The ultra light motor glider Virus -SW914, the fastest in the world in its category – piloted by Serbian biologist, environmentalist, photographer-pilot Matevž Lenarčič touched down in Seychelles after flying 75,000 kilometres.
Describing his flight as '' adventurous'', Mr Lenarčič said his mission for the lonely flight around the world is ''part of a scientific project to measure the level of carbon dioxide in the atmosphere''.
Equipped with a digital memory card storing data on the environmental state of the planet, the aircraft, which weighs 750kg fully loaded with pilot and equipment, has flown over the continents' highest mountains such as the 4,810-metre high Mont Blanc in Europe, Kilimanjaro in Africa with an altitude of 5,895 metres, the south Atlantic and South Pacific Ocean. Mr Lenarčič has also flown over the summit of Mount Everest, the highest peak in the world.
On this trip he has flown over more than 120 national parks and hundreds of natural monuments and resorts. Seychelles is the 42nd out of the 55 countries which Mr Lenarčič has crossed in his solitary journey around the world.
When he landed here, the Slovenian was welcomed by Tourism and Culture Minister Alain St Ange, the chief executive of the Seychelles Tourism Board, Elsia Grandcourt and Mike King-Harman of Hunt Deltel & Co.
Mr St Ange welcomed Mr Lenarčič at the airport. The pilot said he was happy to see the environment-friendly Seychelles on the stops of this world tour.
"We welcome you to Seychelles and wish you a pleasant break in paradise," said Mr St Ange.

Mr Lenarčič's green light world flight mission in an aircraft conceived to burn the smallest amount of fuel per distance flown started in early 2012. After two nights in Seychelles, the green world light flight headed to Tanzania, Mozambique, South Africa, Namibia, Angola, Congo, Cameroon, Central African Republic, Chad, Niger , Libya and its last lapse in Tunisia to complete the 80,000 kilometres of flight set around the world with a minimal use of 95 octane unleaded fuel.