Man dies after driving car off pier
12-April-2012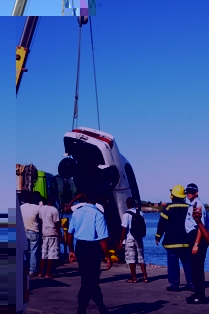 The police said they were alerted at around 3.07 pm that a car had driven off the pier and into the sea with a man inside.
According to an eyewitness, the driver was playing loud music and driving his car very fast back and forth in the jetty area and had then lost control of his car, which plunged into the water.
The eyewitness also said the emergency services were quick to arrive on the scene but lost valuable time in setting up their equipment.
Both the driver and his car were removed from the sea after the area had been cordoned off, but only after spending around an hour under the sea. According to police spokesperson Jean Toussaint, Mr Rose was not responding when he was brought to the surface.
Mr Toussaint also said an autopsy will be done on Mr Rose to determine the cause of his death.
The operation involved personnel from the coast guard, fire and rescue services, and the police.