Karate-Kyokushin's 24th annual training camp a success
12-April-2012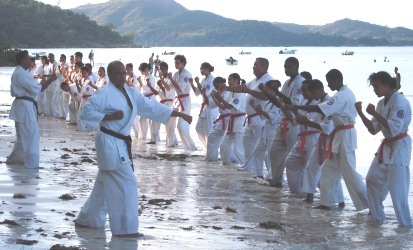 Kyokushin is the only local karate school that has consistently been organising training camps for its members on an annual basis since 1988.
The camp was conducted by Shihan Phillip Moustache, 6th dan black belt, with the help of Senseis Francis Françoise and Phillip Verghese, both 4th dan. According to the organisers, the camp was a great success.
The training camp was aimed at preparing three members for their black belt grading. In addition to preparing the fighters for the International Youth Tournament to be held in Reunion later this year, the camp was also used to prepare the members for the visit of Kyokushinkai chairman for Africa and International Committee member, Shihan Kenny Uytenbogaardt, 7th dan, from South Africa. During his visit, Shihan Kenny will conduct a black belt grading for senior members as well as assess others in preparation for their future grading under the head of the Kyokushin Organisation, Kancho Shokei Matsui.
Three training sessions were scheduled per day with students required to wake up at 5am every morning. A morning run at 5.30am was followed by Ido Kihon (standing basics) session which ended at 8am. This year, the students were taught the meditation techniques of Ritsu Zen to help them improve their techniques. The mid-morning session which lasted from 10.30am to 12 noon, was devoted to the teaching of the basic and advanced Kyokushin katas and their Bunkai (application of techniques). The members were taken through numerous repetitions of the Sanchin kata which places a lot of emphasis on proper breathing techniques, good posture, concentration and execution of proper techniques. In the afternoon session, the students were taken through Ippon (one-step) and Sanbon (three-step) kumite.

One of the trademarks of the Kyokushin Gasshku is the non-stop performance of numerous punching techniques to demonstrate the students' 'Spirit of Osu' or perseverance beyond one's limit. On the first day, the students performed about 5,000 punching techniques which lasted one-and-a-half-hours.

A beach training session was organised at the Côte d'Or beach where the students were exposed to the benefits of kicking techniques while in the water during the beach training session at the Côte d'Or beach. This was followed by an enjoyable swim while others sharpened their fighting skills during kumite on the beach.
On the last day, a grading was organised for junior students who were all successful. The senior students will be taking part in a black belt grading this coming Saturday at the Young Lions Dojo.
The organisers would like to express their gratitude to the following for making the camp a success: Ministry of Education, Oceana Fisheries, Inter Island Boats, parents and Kyokushin students.