World Bank in investment talks with VP Faure
13-April-2012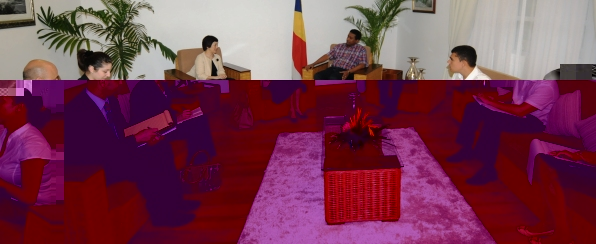 Until the end of her visit on Saturday, Ms Kobayashi – who is leading a three-member delegation – will be calling on several ministers, notably those responsible for Finance, Trade and Investment as well as that of Natural Resources and Industry, Pierre Laporte and Peter Sinon respectively.
Her delegation has already met the Minister for Tourism and Culture Alain St Ange. It will also hold talks with some foreign investors already operating in Seychelles to hear their views about investment opportunities here and how easy it is to operate.
Ms Kobayashi told the press later her talks with Vice-President Faure focussed on government's policy to develop tourism and fisheries. She said the talks helped her delegation to learn more about government's plans to encourage private investment in the various economic activities.
It also hinged on how Miga can support the country in its development.
She said Miga acting as the World Bank's guide to the private sector helps them in making informed decisions and being equipped with the proper knowledge and skills to do so.
Ms Kobayashi joined Miga from Merill Lynch, in Tokyo, where she was president and representative director. Merill Lynch is one of the world's leading financial and advisory companies, providing financial advice in banking. It is the wealth management division of the Bank of America.