Health workers in screening test
13-April-2012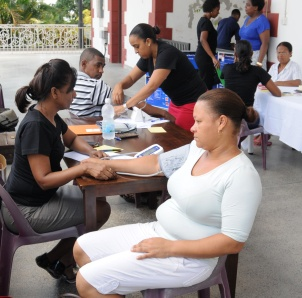 "We thought it would be nice for a change that somebody looks after the carers since they are always the ones ensuring other people's health," said director general of human resources for the Ministry of Health Sandra Crewe.
Tests done included blood pressure, blood sugar, weight and body mass index, waist measurement, HIV status as well as dental and eye checkups.
The activity is one of many organised by the ministry – including bus tours to health centres, a sports day, a fun day at the North East Point Home for the Elderly, an upcoming talent show and symposium – to mark the occasion.
Mrs Crewe said she believes if staff feels a sense of belonging in the workplace they will want to stay and feel better about the work they do.
The health week activities will end with a long service awards ceremony on Saturday where the results of the screening tests will be made known to the workers.
"We will see how fit we are as a workforce," said Mrs Crewe.