Seminar focuses on legal issues of nursing
13-April-2012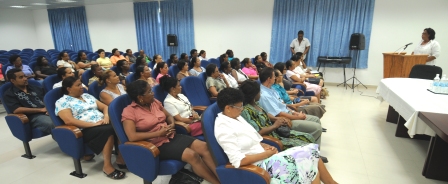 The opening of the working session organised by the Seychelles Nurses and Midwives Council was attended by principal secretary for health Veronique Laporte and public health commissioner Dr Jude Gédéon as well as the World Health Organisation liaison officer Dr Cornelia Atsyor.
Also there were the chief nursing officer Bella Henderson and the council's chairperson Marylyn Lucas and other members.
Mrs Lucas said nurses and midwives working in Seychelles have to adhere to the Nursing and Midwives Act, the regulation and code of ethics and code of conduct prescribed by the council.
"The council as the principal regulator for the nursing and midwifery profession has a stated aim of safeguarding health and well-being and protection of the public."
She said the council is to set standards for education and skills level so as to ensure qualified nursing personnel throughout the nursing and midwifery council's jurisdiction.
"It also sets standards pertinent to many nursing practices including ongoing professional development, private practice so as to keep nursing and midwifery skills up to date," she added.
She said the aim of the workshop is to also reinforce the codes of practice and ethics which guide the practice of the nursing and midwifery professions.
"There's no excuse for them to say they are not aware of the law that governs their practice."
Mrs Lucas said as managers and leaders, part of "your responsibilities is to guide the less experienced nurses vis-à-vis these laws and regulations".
During the session there were several presentations by representative from the attorney general's office as well as by experienced midwifes and other senior nurses.