Aids campaign has highest possible targets
14-April-2012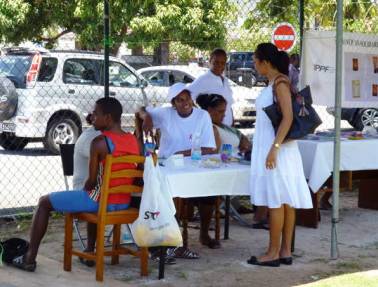 "The main target is to reduce the number of new HIV infections and other Sexually Transmitted Infections (STI) among the general population, by encouraging people to know their HIV status, promoting behaviour change and adopting safer sexual and other practices," it said.
From 1987 to 2011, the cumulative number of people detected with HIV was 502 among whom 290 are male and 212 are females. Out of the 502 cases, 42 were detected in 2011 reflecting a 17.6% increase compared to 2010.
Among those detected, 94 died due to Aids-related illnesses.
A total of 82 HIV-positive pregnancies have been reported out of which 62 benefitted from treatment which was introduced in 2000 and the remaining 24.3% were before the introduction of treatment.
During December 2011, the unit reported a total of 61 new cases of other sexually transmitted infections compared to 55 in 2010 with gonorrhea being the leading STI.
"While everyone is at risk of infection, specific groups called Most at risk population remain more exposed to HIV infection.
Studies have shown a prevalence rate of 14% HIV infection among men having sex with men and 3.8% among injecting drugs users. However, in this latter group there is a very alarming concentration (68%) of Hepatitis C cases.
One of the activities organised as part of the campaign was the HIV testing day for all staff of the Ministry of Health within the compound of the ministry's headquarters. The aim was to offer HIV tests and encourage the staff to know their status.
On Saturday March 31 there was a half-day testing for the general public at the Codevar building in Victoria. This activity was done in partnership with the Alliance of Solidarity For the Family and the Liaison Unit for Non-governmental organisations.
A mass was scheduled at the Anglican Church in Victoria to pray for those infected and affected with HIV & Aids.
With the surge of Hepatitis C infections among injecting drug users in the country, various workplaces have expressed the urgency of educating their staff on this public health issue, which remains a serious threat to our population, said the ministry.
Health centres throughout the country planned other activities which were geared towards educating people on the need for safer sex practices and knowing their HIV status.
The ministry continues to appeal to one and all for continued support so as to rid Seychelles of the three problems mentioned i.e. new cases, HIV-related deaths and discrimination against those infected or affected by HIV.